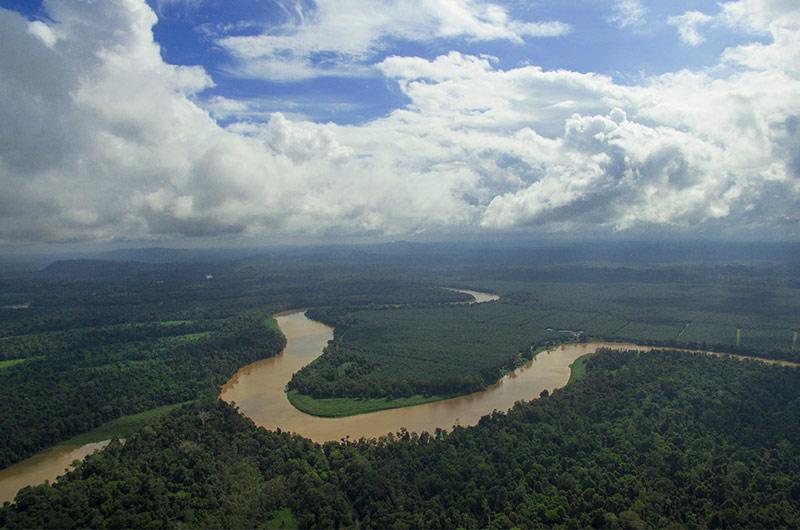 About
Kinabatangan, a district in eastern Sabah, is characterized by the fertile grounds of the Kinabatangan watershed and floodplains,and covers over 23% of Sabah's total land area. Approximately 150km of the total 560 km of the Kinabatangan River length transverses the district, and it is well-known for its unique wildlife endemic to diminishing habitats such as the freshwater swamp forests, oxbow lakes, and brackish mangrove systems which form the irreplaceable corridor that connects the upland forests with those of NE Sabah and a necessity for long term viability of elephants in the state - hence marking the district as an area of conservation significance. Consequently, the district is of socio-economic importance by sustaining livelihoods of a varied demographic, consisting mainly of the indigenous Orang Sungai, Dusun-Kadazan, Chinese and Malay. The main sources of income and employment is predominantly from oil palm, as well as eco-tourism with cultural importance attributed to the unique heritage, lifestyles, and indigenous settlements. A 5% increase in smallholder productivity could earn smallholders and the state economy nearly RM25 million per year, playing an important role in contributing to the state's GDP. 
At the state level, the Sabah state government is aiming to achieve state-wide sustainable palm oil production through the implementation of Sabah Jurisdictional Certified Sustainable Palm Oil (JCSPO), based on the Roundtable on Sustainable Palm Oil Jurisdictional Approach (RSPO JA) – Certified Sustainable Palm Oil, as well as through Malaysian Sustainable Palm Oil (MSPO) certification. Implementation of the JCSPO will be led by the Sabah JCSPO Secretariat under the umbrella of Jurisdictional Certification Steering Committee (JCSC), a multi-stakeholder coalition comprised of Sabah state agencies, civil society organizations and private sector companies. Implementation of MSPO is led by the Malaysian Palm Oil Board (MPOB) and Malaysian Palm Oil Certification Council (MPOCC), working together with the Sabah Department of Agriculture.
At the national level, IDH is partnering with Solidaridad to deliver the National Initiative on Sustainable and Climate Smart Oil Palm Smallholders (NI-SCOPs) – to support the Malaysian Government and key stakeholders such as MPOB to meet the Malaysian commitments under the Paris Agreement, the Convention on Biological Diversity, and the SDGs. The NI-SCOPs program works closely together with the Malaysian government to improve smallholder livelihoods and tackle climate change by adapting to the new climate, protecting forests, and preventing carbon emissions. In addition to smallholder-focused landscape interventions which will be carried out in selected sites throughout Malaysia, the program also has a strong link with MSPO standards, and will contribute to its review, as well as increased transparency on impacts, its implementation and enforcement.